Brick Farm Manager Families and Brick Family Cemetery
Farm managers and their families that lived in the Harris Moody Brick after Judge Moody and family moved to Scottsboro in 1916 are listed below based on verbal conversations that neighbor Larry Dawson reviewed with other old time neighbors and information from Shannon Hall. This information is a best guess history that may need to be revised. It is thought that Big Jim Moody remained on the farm during the 1920's and part of the 1930's. Following Big Jim was the James William Smith family from 1935 until 1942. John Worthen family lived in the brick after the Smiths, followed by (Will Mathis) Matthews, and then in the 1950s was the Charlie Campbell family, followed by the Aubrey Allen family. During the early 1960's was the Jack Adkins family followed by Elbert Garner in the mid 1960's and the last family that managed the farm and lived in the brick was Grady Hambrick and family that managed the farm beginning in 1968 and through the 1970's.
The Harris/Moody Brick Family Cemetery has seven (7) graves with marker inscriptions, another four (4) graves with rock markers (no inscriptions) inside the rock wall, and another two (2) graves with horizontal limestone slabs (no inscriptions) behind the cemetery rock wall. The graves inside the rock wall and those covered with limestone slabs are probably those of the Caleb Baker Hudson family, original owners of the land on which the Moody Brick sits.
On one of Paralee Moody's (1902-2003) visits to the Brick in the late 1990's, Paralee said that there were probably "50 graves" without markers outside the fence she had constructed years earlier. This may be an overstatement by Paralee; however, her point was that there were more graves than those marked. A clean up effort around 2005 and a close mowing of the area identified additional grave sites which have now been marked with a simple concrete block laid flush with the ground.
Annie Coleman Proctor Historical Collection Vol 10-B notes that John Moody, father of Josephine Moody Sanders (see below) is buried in the family cemetery in an unmarked grave yet this has not been confirmed.
Below is a short history of the people buried with marked graves.
Harris Family
Carter Overton Harris, 1800-1860
Carter was the son of Graves and Elizabeth Harris and husband of Mary Ann Hudson. Carter was a builder of fine homes in Jackson County to include the Roache's Cove brick and the General John Reid Coffey home.*
The Harris/Moody Brick home sits on land purchased from the Huntsville Land Office on July 9, 1830 by C. B. Hudson and wife Martha C. Ligon Harris of Prince Edward County, Virginia, the parents of Mary Ann Hudson Harris.
Mary Ann Hudson Harris, in Memory, 1817-1897
Mary Ann Hudson and Carter O. Harris married in 1835. Mary Ann was the daughter of Caleb Baker Hudson and Martha C. Ligon and is buried in Cedar Hill Cemetery, Scottsboro, Alabama. Mary Ann Harris died in 1897 and was buried in Cedar Hill Cemetery in Scottsboro in the Coffey plot. The Harris's' second child, Mary Elizabeth Harris (1847-1894) married Weighstill Avery Coffey, and Mrs. Harris lived with the Coffey's after selling the farm to the Moody brothers.
Mattie Kate Harris, 1841-1862
Martha "Mattie" Catherine was the daughter of Carter O. and Mary Ann Hudson Harris (1817-1897). Mattie Kate was the sweetheart of John Proctor, who lived in Maynard's Cove in Jackson County. The story is told that she had not seen or heard from him in some time so she insisted that her family let her go to his home and inquire of him. This they did, sending her on horseback with one of the slaves going in front of her horse and another slave in the rear. She made the trip safely to his home but learned of his death and on her return home, her horse became frightened by a band of Yankee soldiers and ran into a fence making her a cripple for the rest of her life. She died only a few months later. John was the son of Micajah Alexander Proctor.*
*Information from the Annie Coleman Proctor Memorial Collection.
Hudson Family Information
Research by Ann Chambless notes that Caleb Baker Hudson (born Nov. 22, 1794 in Prince Edward County, VA and died June 7, 1834, in Jackson County, AL), the son of John and Lucy (Baker) Hudson, Sr. moved from Virginia to Jackson County, Alabama with his father and brother, John Hudson, Jr. in 1828 or 1929. His wife, Martha C. Ligon, died in 1822 in Virginia. His son, John William Hudson, born 1818, attended the University of Alabama in 1833, according the University records.
Moody Family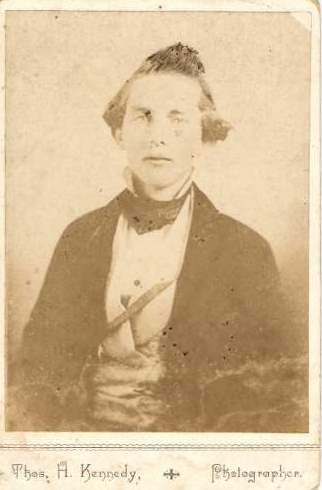 Miles Norton Moody, 1835-1912
Miles Norton Moody (born July 17, 1835) was the son of James Warren Moody, Sr. (1806 SC-1884 AL) and Nancy Holden Moody (1812 SC-1886 AL).
The Harris Brick and farm were purchased in 1872 by brothers Miles Norton Moody (1835-1912) and James Warren Moody (1839-1912). Three Moody brothers, Miles, James, and John J. were born in South Carolina but had moved to Langston, AL area where they were enumerated on the 1860 census.
Rebecca (Edwards) Moody, 1825-1899
Rebecca Susan Edwards Moody (born Jan 25, 1834 and died Aug 5, 1899) was the daughter of Jesse Edwards. Rebecca and Miles married Jan 24, 1856, in DeKalb Co, AL.
Miles and Rebecca Moody's children were Decatur (1856-1857), Laura Ann Moody Staples (1858-1916), Jessie Walter (1860-1861), Albert Henry (1862-1934), and William Littleton (1865-1939).
The son of Miles and Rebecca Moody, Albert Henry Moody, bought the farm from his father and uncle. Albert and his wife Ursula Jane Campbell Moody had nine children at the Moody Brick. Their children included William Lit Moody (1890-1891), Jeptha (Jep) Edwards Moody (1894-1949), John White Moody (1891-1911), James (Big Jim) Albert Moody (1899-1977), Paralee Moody (1902-2004), Alexander (Alex) Moody (1905-1906), Bessie Laura Moody Lipscomb (1896-1962), Hattie Irene (Brooks) Moody Stone (1907-1995), and Virginia White (Redwing) Moody (1912-1945).
Sanders Family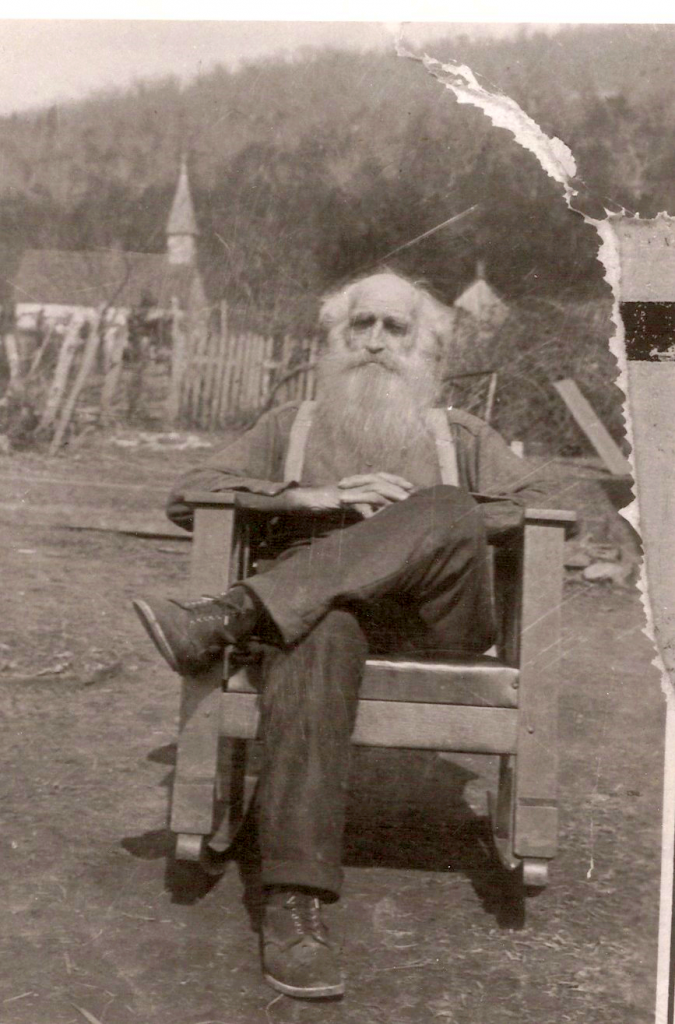 Pleasant "Ples" Wyatt Sanders, 1845-1935
Pleasant Wyatt Sanders was born in Randolph County, NC, the son of Sampson and Rhoda Redwine Sanders. He came to Alabama with his brothers, uncles, and other family members in September 1867. He enlisted in the CSA at Cagles Mill, NC.
Janice Davis notes: I did find out from the oldest family member that when Pleasant deserted from the Civil War, he hid out in
Blowing Cave for three days and nights before he came home. I also found out that Pleasant and Josephine met when they were picking cotton in the adjacent fields that have the road running through them as you leave the Moody Brick. They tried to pick at the same pace so that they could meet at the end of the rows and talk. I guess that is just another connection with the Moody Brick. It is fitting that they were buried there.
Josephine Sanders, 1855-1912
Josephine Moody Sanders was the daughter of John J. and Sally Mullins Moody.
Pleasant and Josephine met when they were picking cotton in the adjacent fields near the Moody Brick. They tried to pick at the same pace so that they could meet at the end of the rows and talk. They were married January 26, 1873 by John Sanders, JP at the residence of John Moody.
Josephine and Ples' children were Laura Jane "Bell" Sanders Inglis (1875-1960), Jesse Norton Sanders (1876-1938), Sampson Wiley Sanders (1878-1957), John Pleasant Sanders (1881-1937), and Charles Brantley Sanders. It is said that Josephine died while visiting the Moody family at Christmas time and was buried at the family cemetery on Christmas Day 1912. Miles Moody and his wife were her Uncle and Aunt.
Charley B. Sanders, 1892-1913
Their son, Charles Brantley Sanders is buried beside his parents after dying of pneumonia. He was married to Elizabeth Ophelia Burrow (1897-1942) and they had one child, Stella M. Sanders Moore Talley (1912-).
Janice Davis notes that Charley was married with one child when he died of pneumonia.